Bio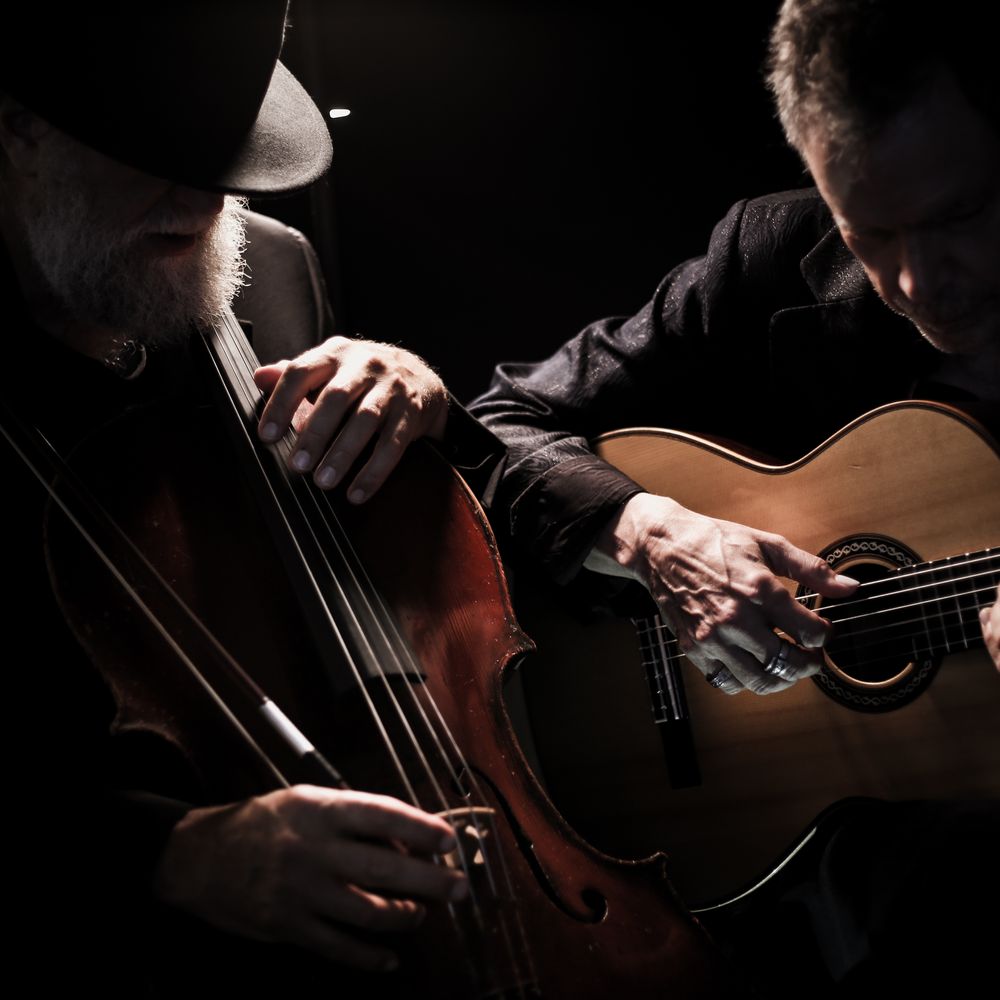 Fred Lieder and Peter Fields
Two lifetimes in music
Fred and Peter met performing together in the Washington, DC freelance music scene many years ago. They immediately realized how much they had in common and began looking for opportunities and occasions to collaborate. After spending many years as part of The Clazzical Project – an ensemble led by flutist Don Stapleson that explores the fusion of Classical and Jazz forms, they resolved to record an album of their original compositions. This led to the release in August of 2019 of an album entitled There's a Way Through the Darkness – a collection of 12 original pieces for cello and guitar – six works by Peter, six by Fred and all of them arranged collaboratively. They currently perform together throughout the Washington, DC area and beyond at both public venues and at concerts hosted by individuals in their homes.
Peter Fields has captivated audiences in the U.S. and Europe with his mastery of diverse musical styles and unique approach to guitar techniques. In addition to his sophisticated original compositions, his repertoire ranges from classical guitar, Jazz, and Latin music masterpieces, to extraordinary arrangements of R & B classics, and interpretations of ethnic music from various parts of the world. He can be heard on numerous recording projects on Polygram and various independent labels, and on television programs for Fox, National Geographic, Discovery Channels and others. His performances as finalist in the American Fingerstyle Guitar Festival and the National Guitar Championships and the winning of first prize in the Mid - Atlantic song contest established his position as a fresh, new voice in the world of virtuoso guitar music. He has composed scores for film and received commissions from choreographers to create original music for the ballet and modern dance. He has performed on the Washington Chamber Symphony recitalist series, released an album of his compositions entitled Solo Guitar Music, which was selected as best acoustic album of the year by Northern Virginia Rhythm, and been nominated as Best Jazz Instrumentalist by the Washington Area Music Association.
 In January of 2003 Peter released Stillness of the Heart, an evocative collection of compositions for classical guitar which has received rave reviews and airplay throughout the country. Peter's melodies are beautifully complimented by the virtuoso keyboards of John Drymon and the visionary percussion of Grammy nominated artist Raphael Cruz.
Cellist Fred Lieder, a Washington music scene fixture for 35 years, is an incredibly multifaceted musician whose skills range from classical to Celtic, jazz to rock, with a heavy dose of blues thrown in. He has delighted audiences all over the country. Locally, he has played the Kennedy Center, Wolf Trap, the Birchmere, Ram's Head, Blues Ally, Twins Lounge, and the State Theater, just to mention a few. Listen to a CD of many local recording artists and chances are, if you hear a cello, it's Fred playing on that backing track. .  
He is the author of "My Cello Has the Blues," a teaching book with play along CD that shows how to play blues, jazz and improvisation. Fred has also released two CD's. "Cello Blues" is a four song CD of rock, blues and gospel songs.